Financing Your Pressure Wash Trailer Purchase
Every business needs new equipment at some point. Existing equipment gets old and outdated and add payment is often needed to grow a business. Nearly 80% of companies in the U.S.A. finance equipment to remain competitive. They recognize that it is more important to have and use the equipment than it is to own the equipment.
In addition to having no downpayment, fixed monthly payments and credit availability being great reasons to finance your equipment, you will find that advantages in leasing also include possible tax advantages, conservation of working capital, being budget friendly and flexible.
Contact Your PowerWash Industries Representative to discuss your equipment needs. Our Representatives work with many types of customers across multiple industries and have the knowledge and experience to help you select the correct equipment for your application. They can also help you select the best available financing options. Once you know the PowerWash Industries Pressure Washer Trailer that you need, just contact one of our proven leasing options listed below.
If you have been in business 2 plus years and have great credit (675 Plus) or a municipality, we have sourced a bank that will do a loan on your equipment. Between 6 and 7 percent which is great in the industry.
Email:
caleb.boyd@westernequipmentfinance.com
Phone: 704.364.3373
Fax: 800.215.6799
Since opening our doors in 1999, Atlas Financial Services has provided competitive leasing and financing options for thousands of businesses nationwide. Atlas is dedicated to successfully providing equipment financing, working capital loans, and merchant cash advance programs to small businesses all over the U.S. Located in Long Beach, California, we've been able to provide dependable equipment financing options along with a commitment to customer service excellence. It hasn't taken long for businesses of all types to continue using Atlas Financial Services for their financing needs.
MATT RICHARDS
Vice President
235 E Broadway Ave, Suite 1160
Long Beach, CA 90802
www.atlasfinance.com
Toll-Free: (800)926-1826 ext. 201 | Direct: (562)304-7050 | Fax: (562)437-8206
You will need a registered business name with your state and a credit score of 600+.
Robert Light
Business: 1-800-800-8098
Ext. 5134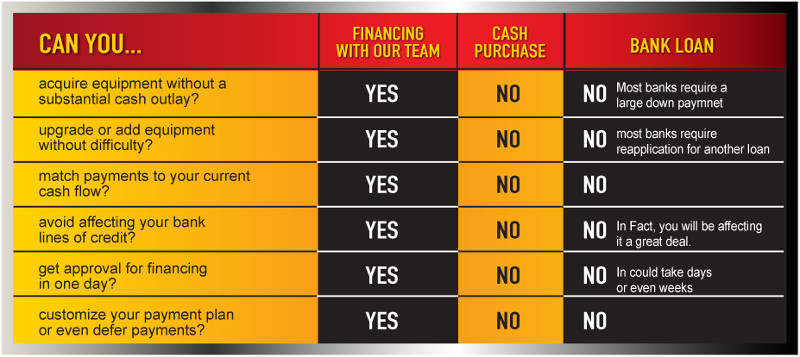 PowerWash Industries Equipment Leasing
Equipment financing
Equipment financing allows you to finance your PowerWash Industries Pressure Wash Trailer at a fixed rate, for a fixed period of time, without having to purchase your pressure wash trailer with cash or working capital. Leasing permits you to avoid many of the uncertainties associated with outright purchasing. Leasing your pressure wash trailer allows you to run and grow your business. Companies choose to lease PowerWash Industries pressure wash trailers rather than purchasing the equipment for many reasons, including:
Cash Flow
The preservation of cash flow compared to conventional financing is the most attractive benefit of leasing. Leasing a PowerWash Industries pressure wash trailer can offer low cost financing because of the advantages of tax benefits. Tax depreciation and taxable income due to current operating losses.
Convenience/Speed
Lease/finance transaction of a pressure washer in many cases can be executed and completed in less time than traditional financing alternatives.
Conservation of capital
Leasing a PowerWash Industries pressure wash trailer doesn't require the cash like it does for a large equipment purchase and can be used to overcome budget limitations. Cash and lines of credit remain free and liquid for other working capital needs that have higher ROE and or ROA metrics.
100% financing
Leasing provides 100% financing while a typical equipment loan requires an initial down payment. Costs incurred in acquiring a PowerWash Industries pressure wash trailer can be financed by the lease. These costs include delivery charges, interest charges on advance payments, sales or use taxes, and training costs. Such costs are not usually financed under alternative methods or equipment financing. This gives you a huge advantage on adding this value added service for you customers.
Value Added Service for Current Customers
Leasing aPowerWash Industries pressure wash trailer doesn't require a huge investment of cash. Customers have the opportunity to receive something above and beyond thier basic needs. You benefit from an increased rapport with the client, which translates into more revenue and a larger client base.
When you lease aPowerWash Industries pressure wash trailer the potential to significantly enhance the growth, services and the reputation of the company is well worth the investment.
Tax Advantages
Always consult your tax advisor as to any tax advantages that may be available with leasing.